Lot A: Fems / Factor / Continental / McVans
8.5" x 11" Flush Mounted on 1/4" Formcore
Shipped Flat

$10 / $3.99 Shipping
Exclusively offered here at greatly reduced pricing are the remaining pieces from the 2018 gallery exhibit "Underground Buffalo Rock Posters: The Continental and Beyond" at GCR Studios. All pieces are flush mounted on 1/4" foamcore and sold as lots of three ($10 for 8.5" x 11" / $20 for 11" x 17"). All pieces were hung in the exhibit and are offered in "as is" condition. Pictured items are the actual items. These pieces are all one of a kind and will never be offered for sale again.

Once they're gone — they're gone for good!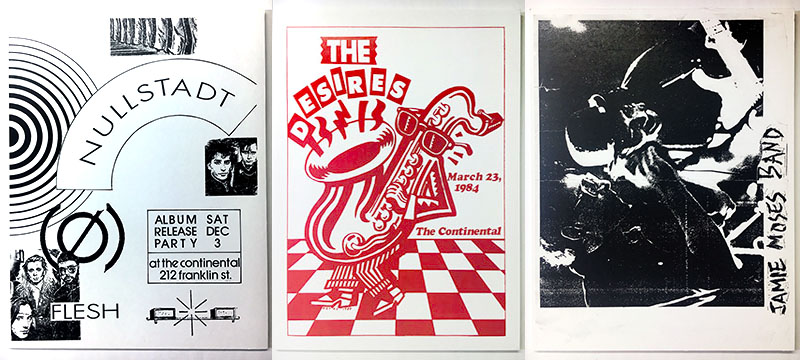 Lot H2: Nullstadt / The Desires / J Moses Band
8.5" x 11" Flush Mounted on 1/4" Formcore
Shipped Flat

$10 / $3.99 Shipping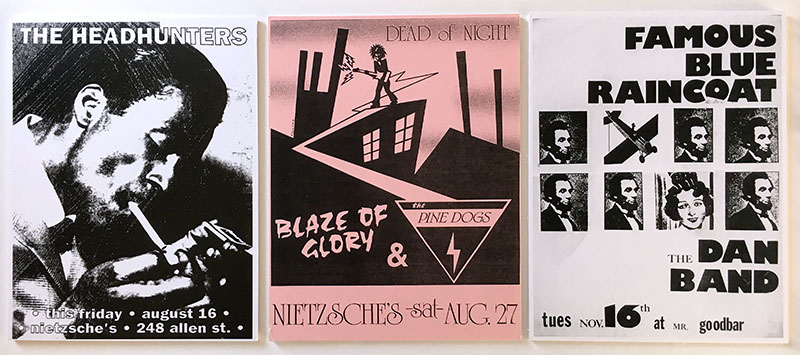 Lot C: Headhunters / Pinedogs / FBR
8.5" x 11" Flush Mounted on 1/4" Formcore
Shipped Flat

$10 / $3.99 Shipping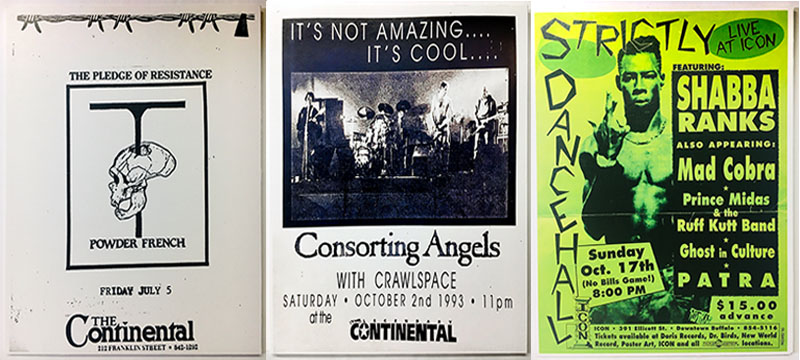 Lot I2: Power French / Consorting Angels / Icon
8.5" x 11" Flush Mounted on 1/4" Formcore
Shipped Flat

$10 / $3.99 Shipping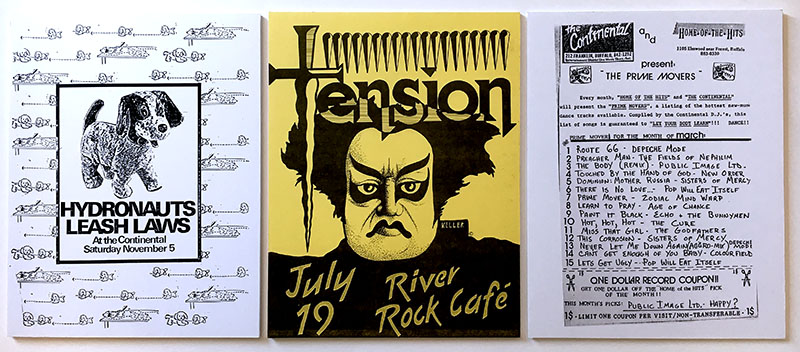 Lot E: Hydronauts / Tension / Continental Chart
8.5" x 11" Flush Mounted on 1/4" Formcore
Shipped Flat

$10 / $3.99 Shipping
Lot F2: Bow Wow Wow / Missing Persons
11" x 17" Flush Mounted on 1/4" Formcore
Shipped Flat

$20 / $3.99 Shipping
Lot G2: 1st Continental Reunion (chipped at top)
Adventure Club / Funk Monsters
11" x 17" Flush Mounted on 1/4" Formcore
Shipped Flat

SOLD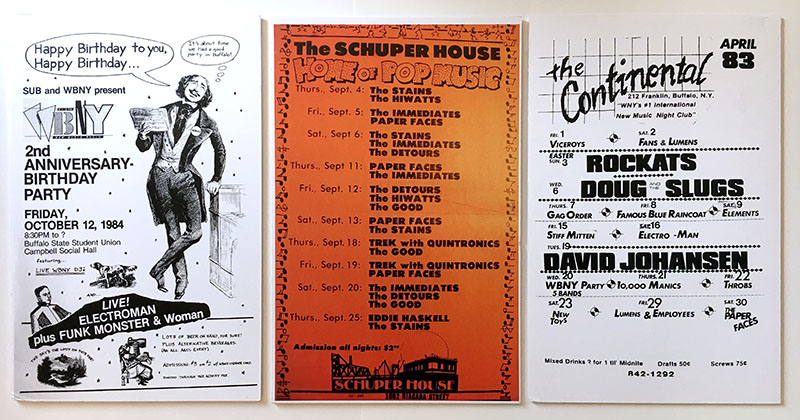 Lot H: Electroman / The Stains / David Johansen
11" x 17" Flush Mounted on 1/4" Formcore
Shipped Flat

$20 / $3.99 Shipping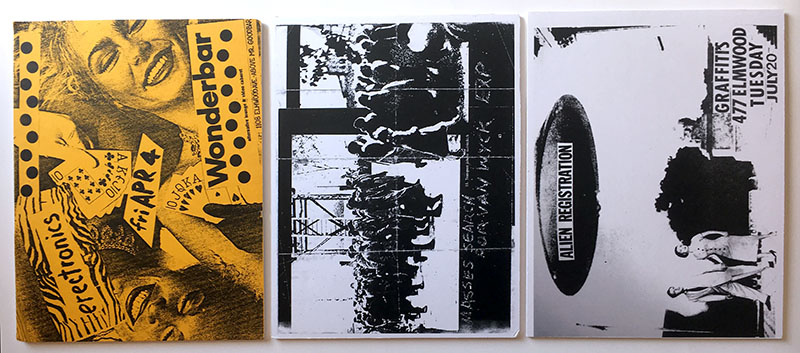 Lot I: Erectronics / Fems / Alien Registration
8.5" x 11" Flush Mounted on 1/4" Formcore
Shipped Flat

$10 / $3.99 Shipping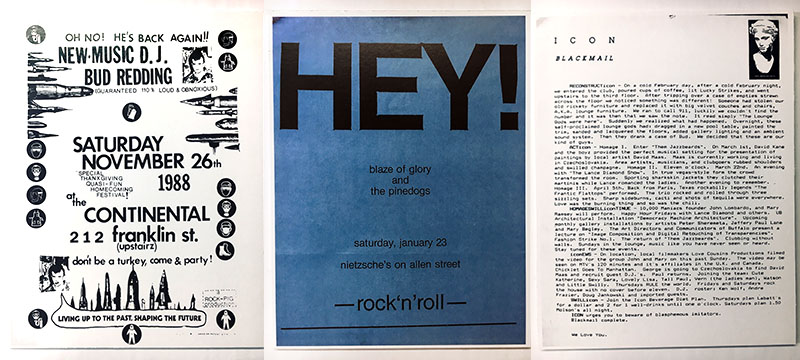 Lot J2: DJ Bud / The Pinedogs / Icon
8.5" x 11" Flush Mounted on 1/4" Formcore
Shipped Flat

$10 / $3.99 Shipping
Lot K2: Famous Blue Raincoat / Celibates
8.5" x 11" Flush Mounted on 1/4" Formcore
Shipped Flat

$10 / $3.99 Shipping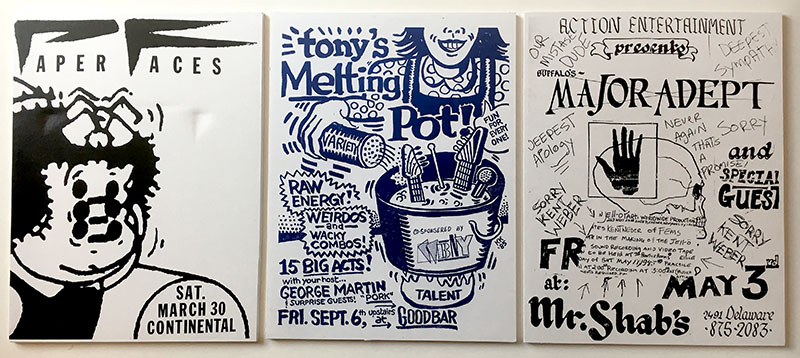 Lot L: Paper Faces / WBNY / Major Adept
8.5" x 11" Flush Mounted on 1/4" Formcore
Shipped Flat

$10 / $3.99 Shipping
Lot M: Fems / Funk Monsters / Ween
8.5" x 11" Flush Mounted on 1/4" Formcore
Shipped Flat

$10 / $3.99 Shipping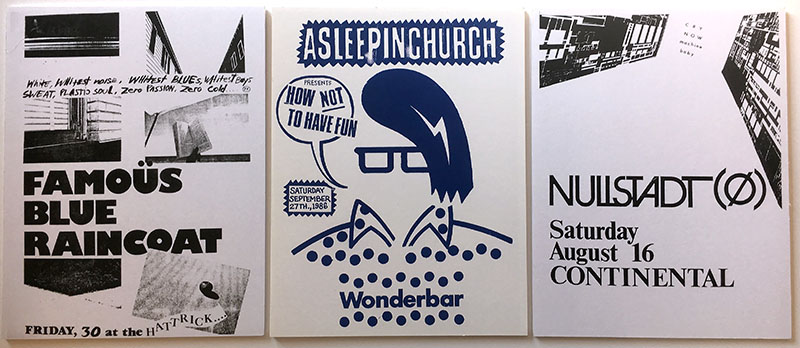 Lot N: FBR / Asleep In Church / Nullstadt
8.5" x 11" Flush Mounted on 1/4" Formcore
Shipped Flat

$10 / $3.99 Shipping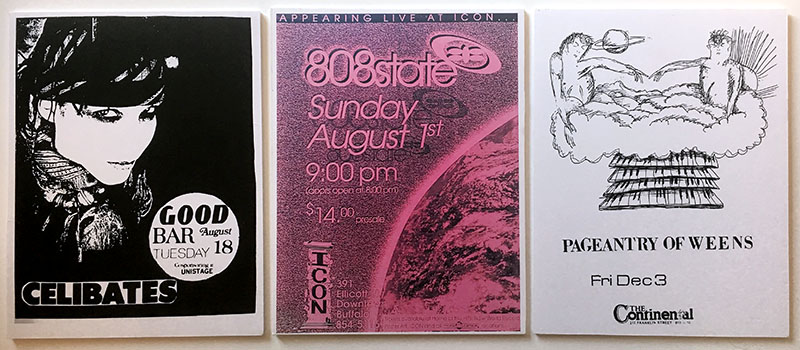 Lot O: Celibates / 808 State / Pagentry of Weens
8.5" x 11" Flush Mounted on 1/4" Formcore
Shipped Flat

$10 / $3.99 Shipping
Lot B3: Fems / Celibates / Alien Registration
8.5" x 11" Flush Mounted on 1/4" Formcore
Shipped Flat

$10 / $3.99 Shipping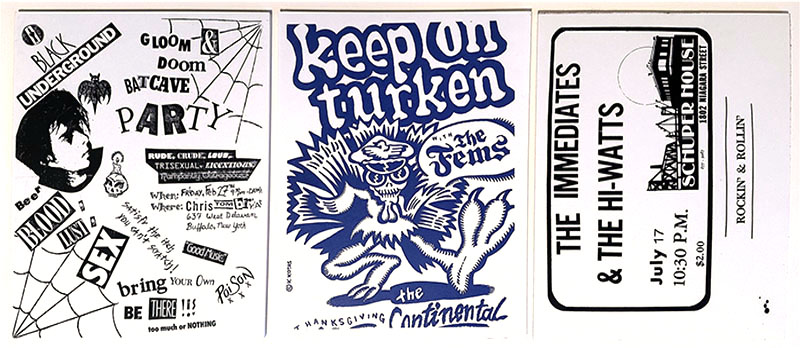 Lot Q: Factor / Fems / Fems Manifesto
8.5" x 11" Flush Mounted on 1/4" Formcore
Shipped Flat

$10 / $3.99 Shipping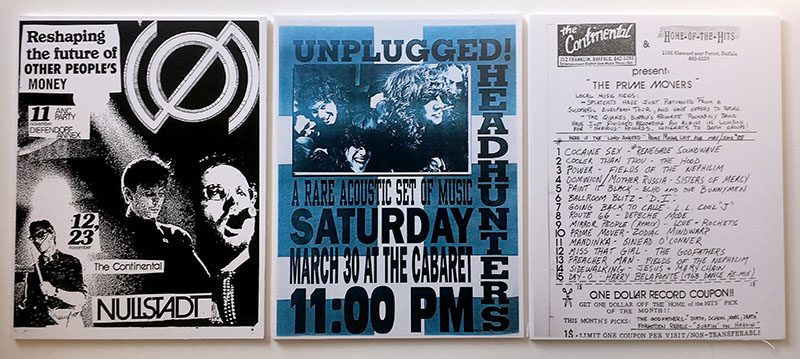 Lot R: Nullstadt / Headhunters / Conti Chart
8.5" x 11" Flush Mounted on 1/4" Formcore
Shipped Flat

$10 / $3.99 Shipping
Lot C3: Celibates / Mister Goodbar / Role Models
8.5" x 11" Flush Mounted on 1/4" Formcore
Shipped Flat

$10 / $3.99 Shipping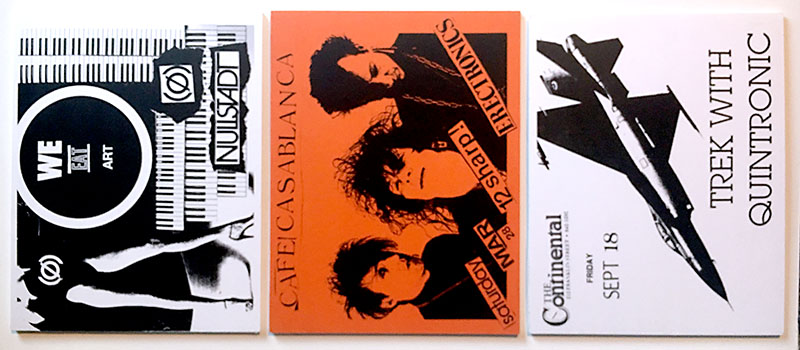 Lot T: Nullstadt / Erectronics / Quintronic
8.5" x 11" Flush Mounted on 1/4" Formcore
Shipped Flat

$10 / $3.99 Shipping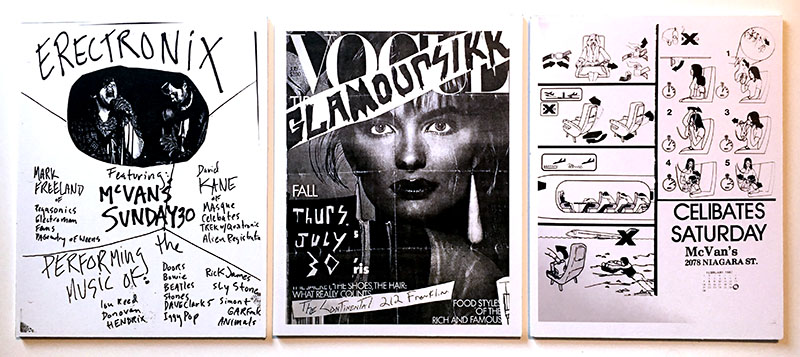 Lot U: Erectronix / Glamoursikk / Celibates
8.5" x 11" Flush Mounted on 1/4" Formcore
Shipped Flat

$10 / $3.99 Shipping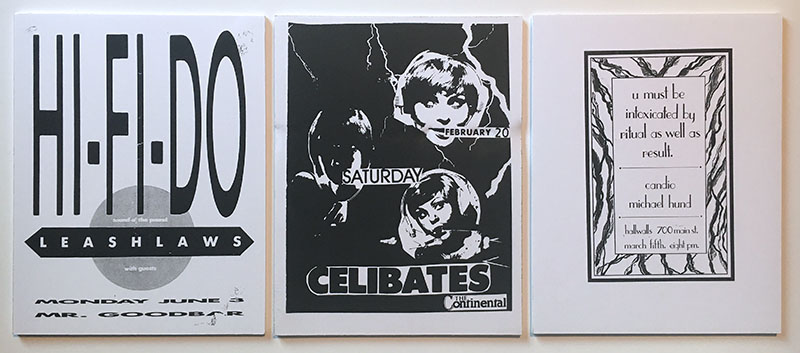 Lot W: Hi-Fi-Do / Celibates / Hallwalls
8.5" x 11" Flush Mounted on 1/4" Formcore
Shipped Flat

$10 / $3.99 Shipping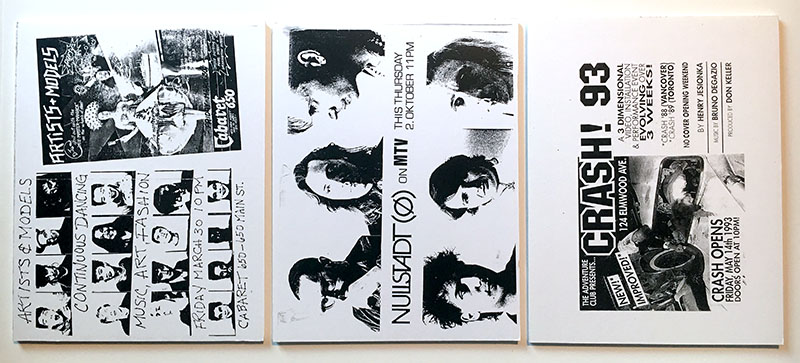 Lot X: Artists & Models / Nullstadt / Adventure Club
8.5" x 11" Flush Mounted on 1/4" Formcore
Shipped Flat

$10 / $3.99 Shipping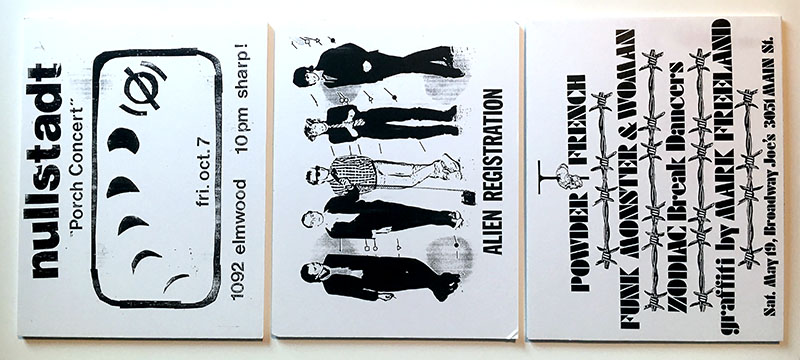 Lot Y: Nullstadt / Alien Reg. / Powder French
8.5" x 11" Flush Mounted on 1/4" Formcore
Shipped Flat

$10 / $3.99 Shipping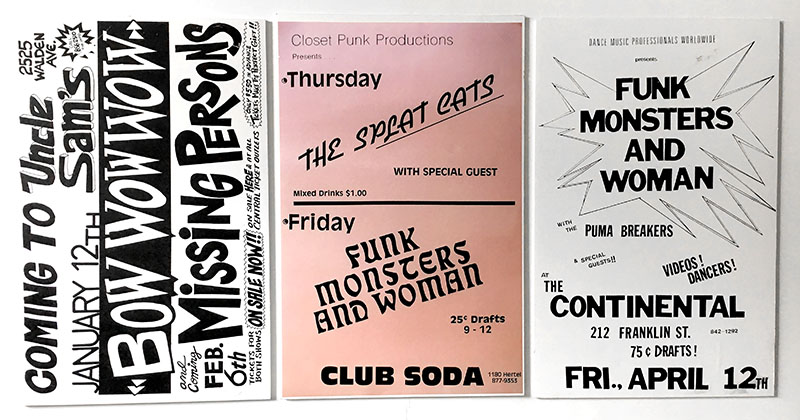 Lot A3: Adventure Club
6" - 7" x 16" Flush Mounted on 1/4" Formcore
Shipped Flat

$20 / $3.99 Shipping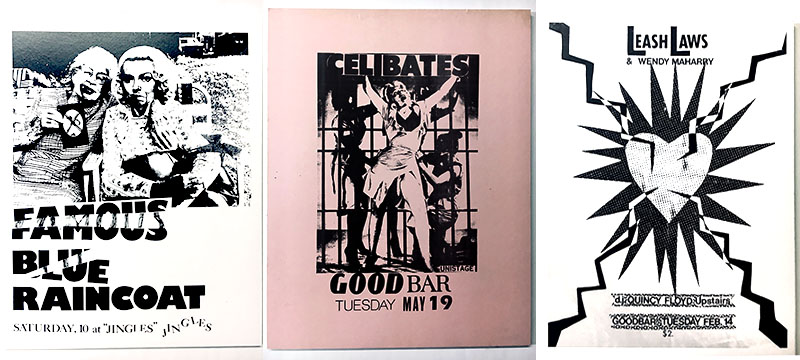 Lot D3: Electroman / Hallwalls / Full of Grace
8.5" x 11" Flush Mounted on 1/4" Formcore
Shipped Flat

$10 / $3.99 Shipping